Autumn Apple Recipes
… or, what to do with the 1/2 bushel of apples you just picked at the orchard. 🙂

I just love the fall season; the weather cools down, the trees change color, things slow down. And I love the harvest, especially pumpkins and apples. Here are a few of my favorite healthier apple recipes.
German Apple Cake

Ingredients:
2 eggs
1/2 cup vegetable oil
1/4 cup milk or water or apple sauce
1 cup sugar (or less; I use 3/4 of a cup)
1 teaspoon vanilla
2 cups flour
2 teaspoons cinnamon (feel free to add more)
Feel free to add any other spices you'd like, optional
1 teaspoon baking soda
1/2 teaspoon salt
4 cups peeled chopped apples
Directions:
In large bowl, beat eggs and oil until smooth.
Add next 6 ingredients and mix well. Batter will be thick.
Fold in apples. Mixture will be mostly apples.
Pour into greased 9×13″ pan.
Bake at 350°F degrees for 40-45 minutes.
Maple Cream Cheese Icing
Mix 3⁄4 cup room temp cream cheese, 1⁄4 cup plain Greek yogurt & 2 tablespoons of pure maple syrup.
Recipe via Maple Cream Cheese Icing | ChopChop Magazine.
I was shocked at how simple and delicious this frosting turned out.
Healthier Oatmeal Apple Cookies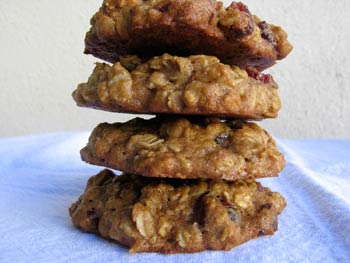 Ingredients
5 medium apples, peeled, cored and shredded (about 4 Cups)
1/2 cup honey
3/4 cup prune juice
1 1/2 cups light brown sugar
1/2 teaspoon ground allspice
1 teaspoon ground cinnamon
1 1/2 teaspoons baking soda
1/2 teaspoon baking powder
1/2 teaspoon salt
2 cups oatmeal
4 cups flour
2 cups raisins
Directions:
Combine all ingredients.
Drop by rounded teaspoons on lightly greased cookie sheet.
Bake 12 minutes in 350 degree oven.
Revipe via Healthier Oatmeal Apple Cookies Recipe
Cinnamon-Maple Applesauce

Ingredients
1/4 cup maple syrup (optional)
1/2 cup water
8 cups chopped peeled apple (about 8 medium apples), Use any apple variety or a combination of them
1/2 teaspoon ground cinnamon
1/8 teaspoon ground nutmeg
Preparation
Combine syrup and water in a Dutch oven; bring to a boil. Add apple, cinnamon, and nutmeg; cover and cook over medium-low heat 25 minutes or until tender. Mash apples with a potato masher. Cook, uncovered, 20 minutes or until most of liquid evaporates. Serve warm or chilled.
Recipe modified from Cinnamon-Maple Applesauce Recipe.
Simple, Quick Apple Prep
To make apple preparation a snap, I use an apple peeler, corer, slicer like:

I highly suggest picking one up from Amazon: